Holidays are here and so is the gift giving season! And this for gamers means discount on new gear!
Today we have a gaming keyboard list for all those who are looking to get hands on a decent gaming keyboard but don't want to spend much, or are just starting to game or just want a budget friendly gaming keyboard.
Best Gaming Keyboards Under Rs. 2500
 1.  Redragon Asura K501
PRICE-2200
1) The K501 is a gaming keyboard with 104 ABS Keycaps for better performance and durability.
2) It has user adjustable 7 different colors backlit keys, backlight brightness levels and breathing speed.
3) It has 104 standard keys including 12 multimedia keys and  8 programmable macro keys.
4) 32 conflict free keys anti-ghosting (n-Key Rollover)  , best for gamers so even if you press many keys simultaneously while playing. All of them will register.
5) Comes with a 6ft nylon braided USB cable and Gold Plated Connector.
6) A very good keyboard for the price. (Waterproof design)
Pros-
Good RGB customization.
Waterproof Design
32 conflict free keys anti-ghosting keys.
Cons-
 2.  Cosmic Byte CB-GK-12

1) The main selling point of the HV-KB414L is its full size 104 Keys Blue Switch Mechanical keyboard.
2) It has a 1.8 meter long braided cable with USB Interface.
3) All-Key Anti-Ghosting.
4) The mechanical keys are Jixian Blue-Switches which provide tactile & audible feedback while typing, gives you a satisfying feeling.
Pros-
50 Million Keystrokes key life is pretty admirable.
Rainbow LED Backlighting with 10 Effects
Cons-
3.   Redgear Manta MT21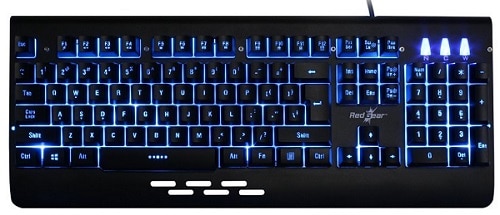 1) The Manta Blaze is the best budget gaming keyboards for this price range.
2) It has full aluminum build with 3 colour LED backlight. It has floating keycaps for mechanical key-like feel. It has 19 anti-ghosting keys with a Windows Key Lock.
3) It has been tested for 10 Million keystrokes.
Pros-
Build is pretty good.
Floating keycaps help provide a mechanical like feel.
Cons-
It is somewhat heavy.
Less visible keys.
Good for mild gaming only.
 4.  Circle Battle Pro

1) This is a basic gaming keyboard with 19 Anti-Ghosting keys and 11 Multimedia Hotkeys.
2) It has Semi-Mechanical keys with different height keycaps for better gaming feel. It has an independent Windows Lock Key too.
3) It has a waterproof conductive film, almost 6 feet braided cable, and is tested for 1 Million Keystrokes.
4) It has 7 colour LED backlight to match every setup.
5) Overall, this is the best bank for your buck keyboard.
Pros-
Good RGB customization options.
Waterproofing is present at this price.
Varying heights keycaps make gaming easier.
Cons-
Build quality is mediocre.
Only 1 Million keystroke testing.
5.   Ant Esports MK1000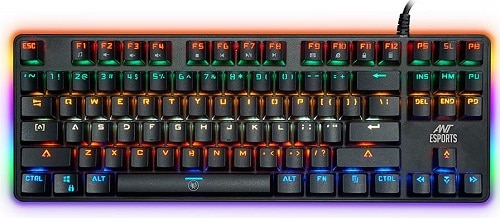 PRICE-2500
1) When you have a full mechanical keyboard with blue switches , then typing will be a joy.
2) It comes with anti-ghosting 104 Keys. N-key rollover, which allows multi-keys to work simultaneously with high speed and accuracy.
3) Although it's not an RGB keyboard but it does have 7-color backlight (each row has a different specific color), 6 preset lighting effects.
4) The switches are clicky Outemu Blue switches which deliver accurate, responsive key commands when typing and gaming.
5) Overall it is a very good deal for the price.
Pros-
Highly durable.
50 Million keystrokes life.
Mechanical Keyboard.
Cons-
Not RGB , though lights up well.
Loud clicks ( But maybe that's what you need)
 6.  Cooler Master Devastator 3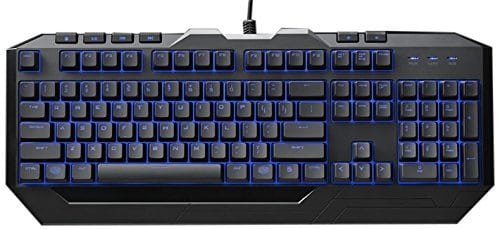 1) A known brand in computer peripherals, the Cooler Master Devastator II is a USA imported "Mem-Chanical" keyboard. It means that it has "Mechanical Feeling" Membrane keys.
2) It has a 125Hz Polling rate, with extra multimedia keys, and approximately a 5 feet cable.
3) It has a  7 Colour LED backlight. Keys are  tactile keys for improved feedback. While the keycaps on the keyboard are laseretched and gripcoated for minimal wear and optimal functionality.
Pros-
Tactical keys feels good.
Cons-
 7.  Havit HV-KB371L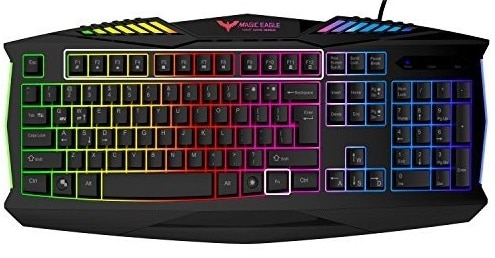 1) The HV-KB371L is the younger brother of the HV-KB414L.
2) It has a Splash-resistant design with drainage holes in the back.
3) Its keys have a life of 10 Million keystrokes with interchangeable WASD keys and a Windows Key Lock.
4) It has 19-Key Anti-ghosting, and 12 multimedia keys. Also a 5 feet cable.
5) A good option.
Pros-
Splash-resistant design with drainage holes.
Swappable keys are appreciated.
Cons-
LED lighting customization isn't available.
 8.  Night Hawk NK102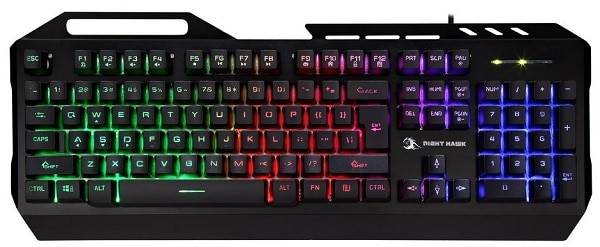 1) The NK102 is a keyboard specially designed for FPS gaming. It has Rainbow colour LED backlighting.
2) Its keys are of metallic structure which complement the LED backlight pretty well. It is quite ergonomic too.
3) Though it is noteworthy that some customers received a dead keyboard.
Pros-
Excellent build quality.
Somewhat ergonomic.
Cons-
No RGB customization is there, you are stuck with one pattern.
9.  Zebronics Transformer

1) One of the best things about this keyboard is the built quality , metal top and plastic base. It is as sturdy as it gets.
2) Although this is not a membrane keyboard , but raised keys are tactile membrane keys.
3) The cable is braided and quite long , with a good sturdy USB connector.
4) On mouse you can turn off the LED feature if you long press the DPI key. Also the mouse is quite comfortable to use.
Pros-
Raised Keycaps.
Tactile membrane.
Non slip design.
Cons-
Only 3 light modes plus one off mode.
 10.  Perixx PX-1800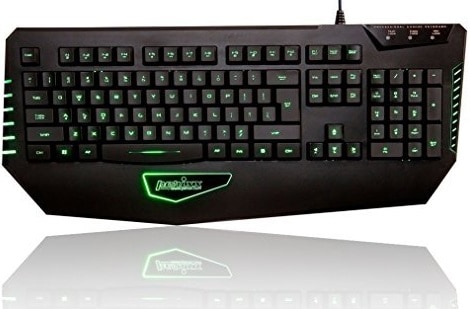 PRICE-2400
1) This is a USA imported gaming keyboard. It comes with 19 Anti-Ghosting Keys, integrated palm rest, LED backlight, etc.
2) It has various hot key combinations and useful functions like Windows Key Lock to reject accidental Windows Key press while gaming.
3) It has 6 feet braided gold-plated USB cable.
4) It comes with 8 interchangeable keys, media control keys, etc.
5) Overall it seems a good keyboard.
Pros-
Good build quality.
Ergonomic
Comes with palm rest and interchangeable keys.
Cons-
No Warranty in India.
Very less information provided for an international branded keyboard.